Oil Tank replacement in Abingdon-on-Thames
Are you looking for a professional oil tank replacement company in the Abingdon-on-Thames area? You can call on us for the full range of oil tank services, including professional site surveys, oil tank removal and replacement, tank installation and more. We are 100% committed to providing you with the very best service.
Oil Tank Replacement The Plan
Before our team begin work on removing your old oil tank and replacing it with a new one we will figure out the best plan for your needs. We will recommend the most efficient, cost-effective process so you can rest assured you won't pay any more than you need to and that the job will be done as swiftly as possible.
Our process begins by visiting the site – we are based in Thame which is local to Abingdon-on-Thames –  inspecting the area around the tank and reviewing your tank's history. Our goal is to make sure there's minimal disruption to your day-to-day routine during the tank removal process
Easy Oil Tank Replacement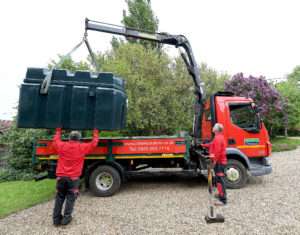 Before removing your unwanted oil tank, our team will first need to remove any remaining oil inside the tank. Once that's been done our OFTEC trained team will clean the tank to ensure there are no hazardous, flammable substances inside before we prepare to remove the tank from your property.
Assuming your oil tank is installed in an easy-to-access location it's likely we will remove it in one piece with a crane. You'll be pleased to hear that this is how most tank removals are done, it's fast, easy and there is minimal disruption to your site.
Underground Oil Tank Replacement
Sometimes an oil tank has been installed underground in which case we will need to excavate it carefully. Or maybe your tank was installed in a location that's difficult to access like a basement in which case our team will need to remove the oil tank in pieces. For safety, we'll cut your tank using cold cutting and spark-free tools.
After removal we will dispose of your oil tank in accordance with all environmental regulations through a recycling partner so that as many of its parts as possible will be be reused. Our team is made up of full trained and friendly professionals with years of experience in the oil tank business – the whole team is OFTEC registered which means we  attended all the  necessary training courses and passed all the assessments.  OFTEC carries out regular inspections to ensure members' work meets the required standard. 
Every oil tank removal  is carried out in accordance with current regulations and safety standards and at the end of the process we will issue you with a certificate of disposal for your old, unused fuel tank.
Oil Tank Replacement In Abingdon-on-Thames
Oil Tank Solutions is a professional oil tank removal company based near Abingdon-on-Thames in Oxfordshire.  You can call on us for the full range of heating oil tank services including:
We are 100% committed to providing you with the very best service. 
Our team have been delivering first class heating oil tank services for many years now, which is why we have built such a strong reputation in the industry for being reliable and professional. 
Fast Professional Replacement Of Your Unwanted Oil Tank
Here's What Some Of Our Customers Say About Us
Get A Free No Obligation Quote For Your Oil Tank Replacement
Send us your details, one of the team will get back to you within 24 hours.
I'd like a free quote for replacing my oil tank